Description
The HOT-FILL DOS 2 ensures quick and precise dispensing of liquid food products. Soups, sauces and mashed potatoes are filled into bags and containers effortlessly. The built-in scale ensures that weighing of the product happens in one and the same workflow saving time in the kitchen. Changing the filling process from bags to containers only takes a few moments. Simply remove the bag holder, fit the roller track and the HOT- FILL DOS 2 is ready.
The HOT- FILL DOS 2 makes the work station safer. The machine ensures a proper working position, protecting the operator from straining shoulders and wrists. This reduces inconveniences and prevents injuries.
The HOT- FILL DOS 2 is mounted on swivel wheels allowing for the workstation to be moved to the most convenient spot.
Dispensing food with HOT- FILL DOS 2 minimizes the risk of scalding since the machine handles the food. Operating the machine is managed via a modern colour touch-screen display with a user-friendly interface.
Cleaning the HOT- FILL DOS 2 is done by the built-in semi-automatic CIP system. Here all internal pipes, tubes and valves are cleaned. All loose parts are dishwasher safe.
HOT- FILL DOS 2 is delivered according to your specific needs or requirements
The process step-by-step
•   The suction tube is fitted to the kettle
•   The desired quantity per bag is entered on the touch screen
•   Press Go
•   HOT-FILL DOS 2 sucks the product from the kettle
•   dispensing the desired quantity into bags or containers
•   After production, a CIP cleaning system (optional) can be fitted to the
•   HOT-FILL DOS 2 by adjusting the CIP tubes
•   The CIP system cleans tubes, pipes and valves
•   The CIP system applies detergent and disinfectant automatically
Technical specifications
Item No: 5002
Power supply: CEE plug,16 A fuse, 230 Volt
Type B RCD 300mA
Air supply: Tube with quick coupler, minimum 7 bar, 100 l per min.
Features
•    Quick change between bag holder and roller track
•    convenient for cantines
•    Ensures long shelf life for products
•    Colour touch-screen display
•    Swivel wheels and brakes allow for portability and stability
•    Minimized risk of scalding
•    Increased workplace safety
•    Reduces occupational injuries to shoulders and wrists
•    Dispenses puddings, fruit desserts, soups, sauces
•    and mashed potatoes
•    Built-in scale for accurate weighing of dispensed portions
•    Dispensing over conveyor, tray-sealer and deep-draw
•    packing machine
•    Possibility of remote controlled dispensing
•    Welding system for sealing Hot-Fill bags
•    User friendly touch-screen display
•    Particle size up to 30 mm depending on product.
Accessories
•    Height-adjustable device
•    Temperature alarm for self-monitoring the temperature of the portioned product
•    Temperature alarm with data logging. Built-in USB data logging for logging time and temperature
•    Knee-activated plastic bag welder
•    Conveyor extension
•    Built-in compressor
•    Accessory troller
•    Fully automated CIP system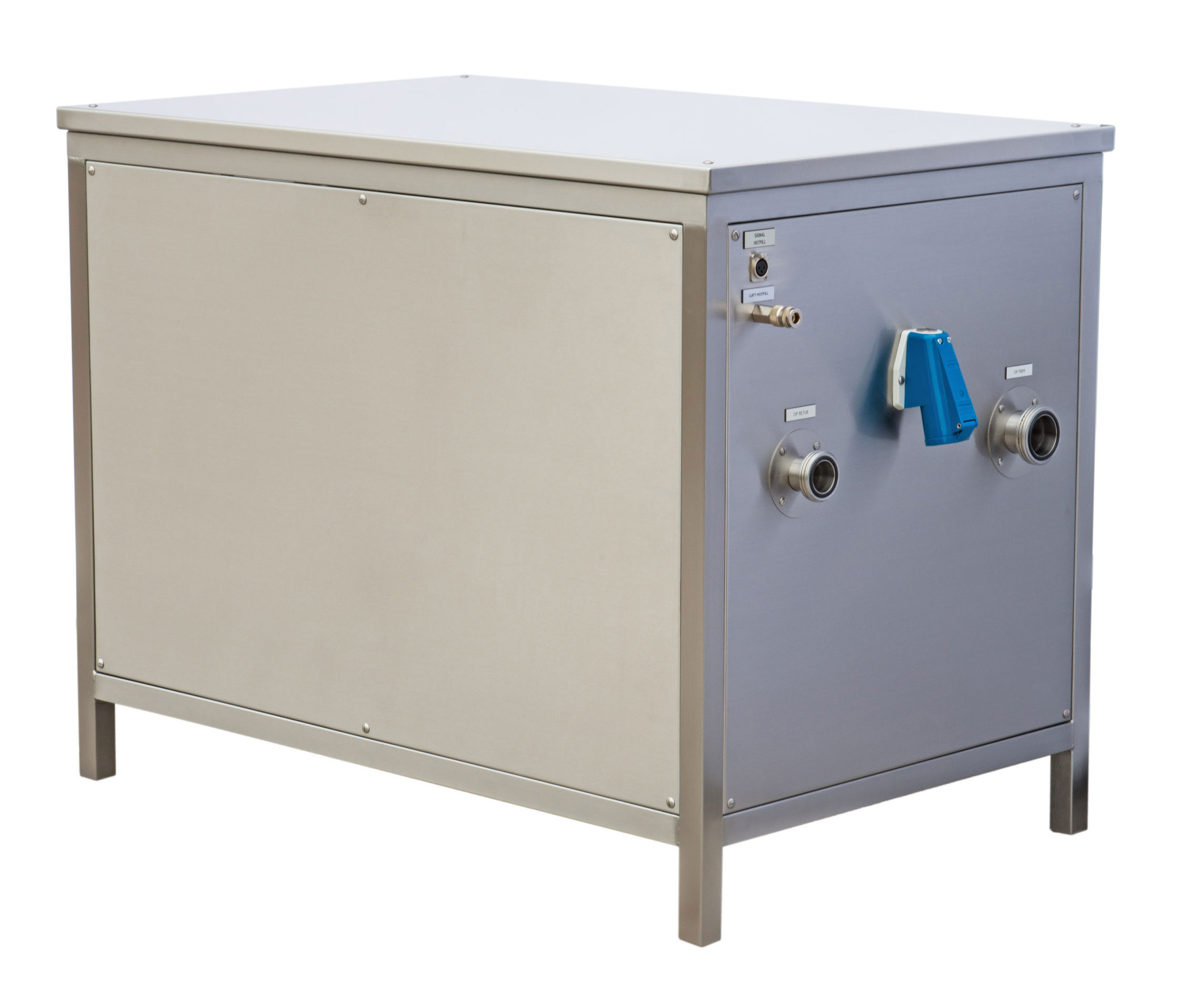 Description
The optional fully automated CIP system significantly reduces hours spent on cleaning the machine. In addition, a fully automated CIP system allows for the programming of specific cleaning tasks.
Technical specifications
Item No: 5100
Power supply: CEE plug, 32 A fuse, 400 Volt
Type B RCD 300 mA
Cold water: 3/4", 2½" bar
Hot water: 3/4", 2½" bar
Drain: 100 mm in diameter